A Tutorial Guide to Building a Website!
The WP Starter Guide is a must-have for anyone beginning to build a website.  This tutorial makes a seemingly complicated process into a smooth and rewarding experience.  You can create a Website!  The publication is a Great Guide For Beginners and gives the reader an advantage, a head-start to build a website.  
The Ultimate Guide to Creating a Website With WordPress
This guide by Lisa Irby will answer the questions you have about details that really make a difference when working in the "Website World." You gain a tremendous advantage when you read and use this guide.  You build a website with your personal touch.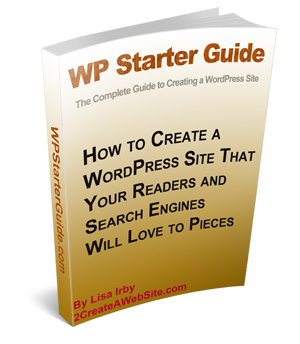 WordPress was originally designed for sites that focused on news-oriented content.  But it is easy to use and flexible.  So, people are now using it to create all kinds of websites.  Initially you read and become familiar with the language of website building.
You learn to effectively use the WordPress Menu function and static pages.  You understand what a logical navigation is and how an optimal content layout is so important.
Organization is a Key Factor to Success
A blog format with categories of content and posts is not the only use for WordPress.  Find that there are many applications to building and owning a website.  Read about the effective use of static landing pages.  You make your important content stand out to draw the attention of visitors.he WordPress Starter Guide will teach you how to organize the content you want to emphasize.  Learn how to make your menus link to the pages you want to visitors to check out.
The WP Starter Guide is the perfect starter guide for anyone new to WordPress!  You will understand the differences between dynamic and static functionality.  And you'll logically organize your content for the most impact on the visitors you draw to your site.
You make your website simple to navigate so the important information and products come to the forefront.  Visitors want to see content that the expect in an organized presentation.
No longer be intimidated by WordPress and website creation.  The Guide makes learning this new skill a breeze!
What Does The Guide Include?              
125 pages (PDF) of up-to-date information on how to create a website using WordPress. Beginners will feel much more confident having read the guide.  You will want to always have it on hand for reference. (Instant download — requires Adobe Acrobat Reader to view)
Tips on so many elements that will aid you to your success:

topic/keyword research,
SEO (search engine optimization),
promotion,
plugins,
making money,
writing content,
layout,
security
customizing common elements of your blog (header, stylesheet, etc.)

An entire chapter is dedicated to layout.  That will make your site easy to navigate.  It will improve you site's search engine optimization.
Get Instructions for adding/floating social media icons in your header.
Discover how to easily add AdSense announcements to your sidebar.
Colorful illustrations and screenshots are added for interest and easy attention to details.
Instructions on how to create drop-down menus in seconds.
Inside tips to improve the page views per visitor.
FREE LIFETIME UPGRADES! Your Guide is always being updated, so make sure to keep it up-to-date.  Read and download the content from emails that you receive with the new content.  You definitely want to be notified about any major releases.
People who want to learn how to create an effective and attractive website will really benefit from this guide.  Anyone who already has a website will want to use it to better understand the features of WordPress.  Learn and head for success!